Operating under the banner of SQ Golf, Simon Quilliam, Head Professional at Flackwell Heath Golf Club in Buckinghamshire, is establishing a reputation as one of the leading young golf coaches in the area.
Our coaching team will look at every aspect of your game. We aim to work with golfers on positive aspects that make a big difference on the course. This can range from a quick fix to a structured swing change. Lessons can be tailored to cover all aspects including long and short game techniques, bunker play, pitching and chipping, putting, through to the mental approach needed to score well. Group Lessons are available for Beginners/Juniors/Seniors/Ladies.
The SQ Swing Room at Flackwell Heath Golf Club is fully equiped with the very latest technology, including a GC2 launch monitor, HMT measuring device and an indoor simulator. This helps to provide expert advice on ball flight analysis, clubface angle, swing speed statistics and directly compare your swing and stats with famous professionals.
To find out more about the Swing Room at SQ Golf please click here.
Lesson Rates - Simon Quilliam (PGA Head Professional)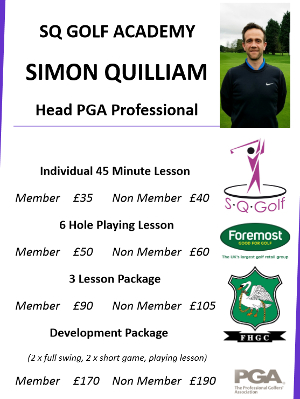 Lesson Rates - Richard Andrews (PGA Assistant Professional)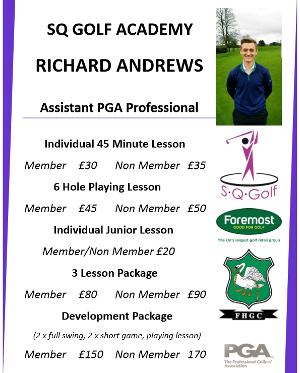 Lesson Rates - Gavin Robson (Trainee PGA Professional)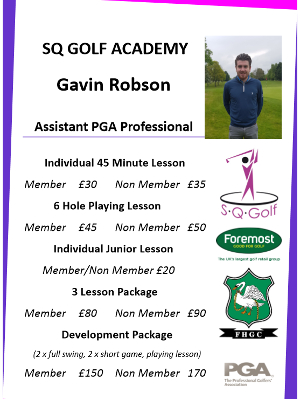 To book a lesson with one of the Professionals at SQ Golf please call 01628 523017 or contact us here.